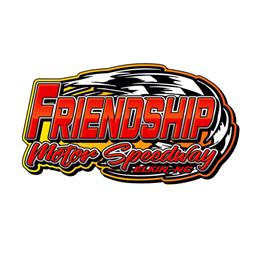 10/1/2021
Friendship Motor Speedway
---
Final Race of the Season!
This Saturday will be our final race of the season, as well as our final points race! All 7 of our regular weekly divisions will be running this weekend!
Here is the schedule and lineup for the entire evening!
Gates open at 4PM
Admission: Pits- $30
Grandstands/HIllside- $10
Kids 10 & under- Free
Hillside spots are available for an additional $15 per vehicle, and these are first come, first serve!
Driver registration ends at 5:30PM
Drivers Meeting at 5:45PM
Hot laps- 6:00PM
-602 LM
-Renegade
-FWD
-604 LM
-Pro 4
-602 OWM
-Young Guns
Opening Ceremonies
Heat Races/Qualifying
-602 LM- 5 laps
-Renegade- 5 laps
-FWD- 5 laps
-604 LM- Qualifying
-Pro 4- 5 laps
-602 OWM- Qualifying
-Young Guns- 5 laps
Intermission
Main Events
-602 LM- 15 laps
-Renegade- 15 laps
-FWD- 15 laps
-604 LM- 20 laps
-Pro 4- 15 laps
-602 OWM- 15 laps
-Young Guns- 12 laps
We will see everyone this weekend!
---
Submitted By: Jessica Stowe
Back to News